Last year I wrote a Sudoku using Silverlight 2. I'm now porting it to the Windows Phone 7. I started designing the UX. I decided to stick to the Metro design. It's really clean.
I'm using the ApplicationBar and Menu. I'm not totally sure which buttons to use. For now: pause, undo, redo and hint. I will have to create a ShakeTrigger which I will use to create a new game. I will have to postpone this until I have a real device to develop on. The accelerometer is hard to emulate.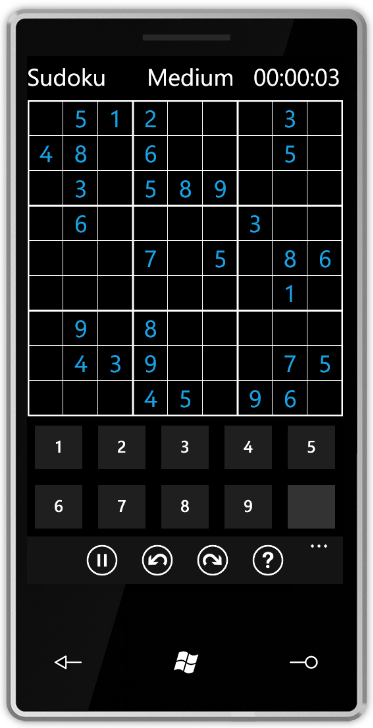 I'm also planning to 'import' Sudoku's using the phone camera and OCR. But probably not in the first version.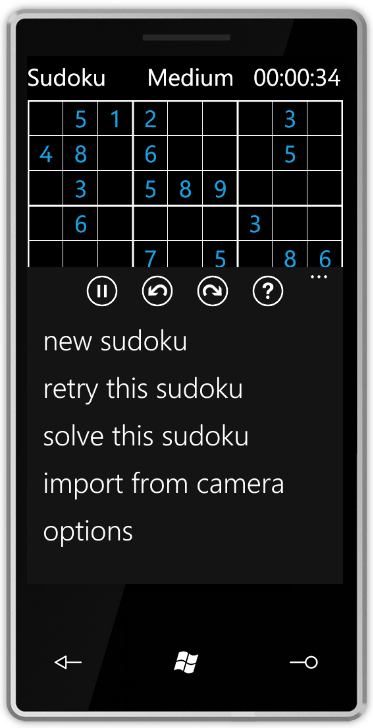 I hope to show you a working version in a YouTube video soon. Come back later. All feedback is welcome on fons@reflectionit.nl
Cheers,
Fons
All postings/content on this blog are provided "AS IS" with no warranties, and confer no rights. All entries in this blog are my opinion and don't necessarily reflect the opinion of my employer or sponsors. The content on this site is licensed under a Creative Commons Attribution By license.