My Sudoku has been accepted in the Windows Phone 7 Marketplace.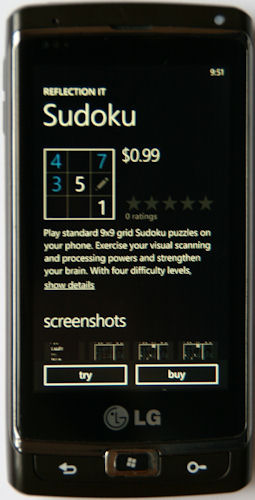 Play standard 9x9 grid Sudoku puzzles on your phone. Exercise your visual scanning and processing powers and strengthen your brain. With four difficulty levels, intuitive interface, and all the functions right at your fingertips, this Sudoku app is sure to be your favorite.
Features:
4 different skill levels (easy, medium, hard, evil)
random puzzle generator so you will always get a new one
auto save
Undo & Redo
pencil notes
hints, validate, solve
settings (show candidates and incorrects)
10 puzzles free trial

All postings/content on this blog are provided "AS IS" with no warranties, and confer no rights. All entries in this blog are my opinion and don't necessarily reflect the opinion of my employer or sponsors. The content on this site is licensed under a Creative Commons Attribution By license.