By Fons Sonnemans,
05-mrt-2012
By Fons Sonnemans,
12-jun-2011
By Fons Sonnemans,
09-mei-2011
By Fons Sonnemans,
04-apr-2011
By Fons Sonnemans,
24-mrt-2011
Om je inkomsten van je applicaties, die via de Marketplace verkocht worden, uitbetaald te krijgen, dien je een aantal stappen te ondernemen, zodat je niet dubbel belasting betaalt. Vanwege een verdrag tussen Amerika en Nederland is het mogelijk dat je in Amerika geen belasting betaalt over deze inkomsten, mits je de goede formulieren correct invult. Wel moet je in Nederland separaat aangifte doen over deze inkomsten.
Ik heb op dit moment 6 applicaties in de WP7 Marketplace. Vanaf januari dit jaar betaalt Microsoft USA mij maandelijks mijn inkomsten uit. Hierbij houden zij geen belasting in omdat ik mijn W-8BEN formulier correct ingevuld en opgestuurd heb. In deze blogpost beschrijf ik hoe ik dat gedaan heb.
Onlangs heeft Matthijs Hoekstra van Microsoft Nederland zijn 'Windows Phone 7 Marketplace, W7, W8, EIN, ITIN, hoe zit dat nou?' blogpost geschreven. Hierin geeft hij uitleg welke formulieren ingevuld moeten worden. In het artikel heeft hij daar een mooi schema opgenomen. Ik ontwikkel mijn applicaties vanuit Reflection IT BV (Besloten Venootschap) en heb dus ook een BTW nummer (VAT). Daarom heb ik dus de Form SS-4, EIN Number, Form W-8(BEN) route gevolgd.
Form SS-4
Om een EIN nummer aan te vragen heb ik eerst een SS-4 formulier ingevuld. Deze heb ik gebruikt om daarna deze gegevens telefonisch door te geven aan de US Tax Office (IRS). Dit omdat dit sneller gaat dan de post. Je krijgt namelijk dan direct het nummer en een paar dagen later via de post de bevestiging.
Klik op de onderstaande afbeelding om de PDF versie van mijn ingevulde formulier te openen. Op een aantal plaatsen heb ik vraagtekens gebruikt om mijn persoonlijke gegevens te verbergen.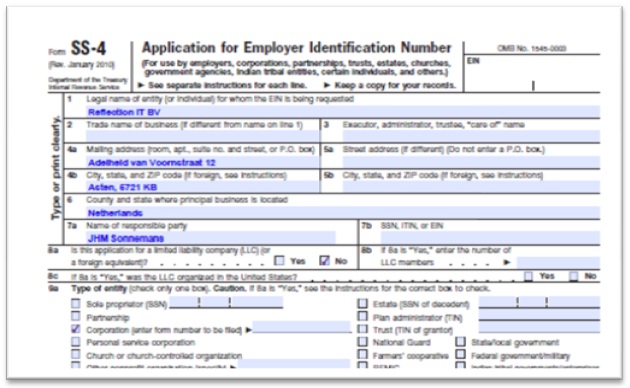 Op de 'How to Apply for an EIN' pagina van de IRS staat het internationaal telefoon nummer (+1 267 941-1099) dat ik gebruikt heb. 5 Minuten later had ik mijn EIN en kon ik het W-8BEN formulier invullen.
W-8BEN
Klik op de onderstaande afbeelding om de PDF versie van mijn ingevulde formulier te openen. Let wel op dat ik bij vraag 3 ingevuld heb dat ik een Corporation ben (BV) waardoor er sprake is van loondienst. Ik weet niet wat een eenmanszaak of privé persoon dient in te vullen. Bij vraag 6 heb ik mijn EIN ingevuld.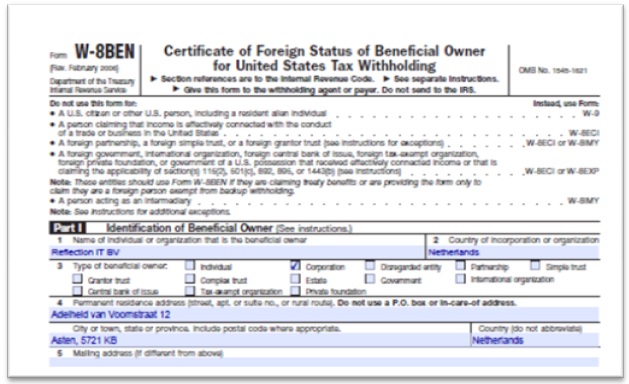 Je kunt tegenwoordig je W-8BEN formulier door Microsoft laten controleren voor dat je deze officieel indient. Stuur deze via een email bij naar mplcomm@microsoft.com. Zij melden dan of het goed is ingevuld. Dit heb ik zelf niet gedaan omdat deze service toen nog niet bestond.
Dit formulier stuur je naar het onderstaande adres.
Microsoft - Windows Phone Marketplace
Attn: Finance Department
29011 Commerce Center Drive
Valencia, CA 91355
USA
Dit adres afkomstig van deze FAQ pagina is het correcte adres. Op deze pagina staat een ander adres wat nogal wat verwarring veroorzaakt. Indien dit laatste adres gebruikt wordt zal Microsoft deze post doorsturen naar het correcte adres.
Helaas krijg je geen bevestiging van ontvangst of correctheid. Pas als je de eerste $200,- uitbetaald krijgt weet je of het goed gegaan is. Ook de App Hub site blijft melden dat er nog geen W-8BEN ontvangen is tot deze eerste uitbetaling. Je kunt jammer genoeg tussentijds niet controleren of je aanvraag goed terechtgekomen is.
ITIN en W-7
Omdat ik vorig jaar nog niet wist dat ik een EIN nodig had heb ik overigens ook een ITIN aangevraagd. Deze heb ik ook ontvangen maar daarna niet meer gebruikt. Om dit aan te vragen heb ik het W-7 formulier ingevuld en opgestuurd naar de IRS. Daarbij heb ik een gewaarmerkte kopie van mijn paspoort meegestuurd. Alleen een handtekening is echter niet voldoende, hierop moet duidelijk de naam van de ambtenaar van de burgerlijke stand bijgeschreven worden. Deze heb ik voor € 10,- verkregen bij het gemeentehuis. Je hoeft hiervoor dus niet naar een notaris of ambassade. Tot slot moet je ook deze brief (PDF) downloaden, afdrukken, ondertekenen en meesturen.
Klik op de onderstaande afbeelding om de PDF versie van mijn ingevulde formulier te openen.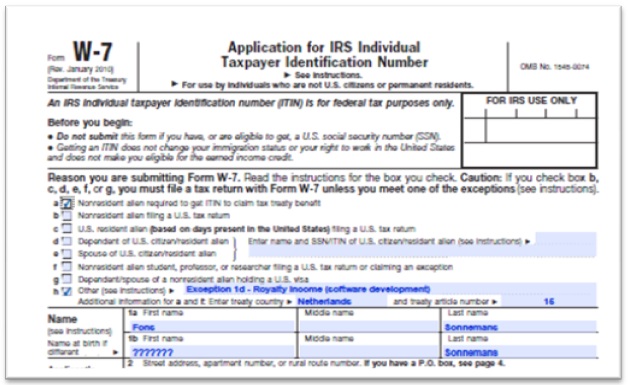 Ik heb daarna bijna 2 maanden moeten wachten op deze aanvraag waarna ik een net briefje ontving met daarin mijn ITIN.
Disclaimer
Het invullen van alle formulieren is een hele zoektocht geweest. Gelukkig heb ik daar geen fouten in gemaakt. Ik hoop dat deze informatie gebruikt kan worden om zelf ook deze formulieren in te sturen. Deze informatie is uitsluitend bedoeld voor algemene informatiedoeleinden en is niet bedoeld als advies. Reflection IT BV is niet aansprakelijk voor enige schade ten gevolge van het gebruik (of de onmogelijkheid tot het gebruik) van deze informatie.
Cheers,
Fons
By Fons Sonnemans,
08-mrt-2011
By Fons Sonnemans,
01-mrt-2011
By Fons Sonnemans,
25-feb-2011
By Fons Sonnemans,
12-feb-2011
By Fons Sonnemans,
17-jan-2011
All postings/content on this blog are provided "AS IS" with no warranties, and confer no rights. All entries in this blog are my opinion and don't necessarily reflect the opinion of my employer or sponsors. The content on this site is licensed under a Creative Commons Attribution By license.